Cebu City & Highlands Tour
Cebu City, is located in south-central Philippines. Located on Cebu Island's eastern coast, it is protected by offshore Mactan Island and by the inland Cordillera Central. It is one of the country's largest cities and is a bustling port. Its harbour is provided by the sheltered strait between Mactan Island and the coast.
The country's oldest settlement, it is also one of its most historic and retains much of the flavour of its long Spanish heritage. A thriving port occupied the site when Ferdinand Magellan, the Portuguese navigator and explorer, landed there on April 7, 1521. He sealed a blood compact with Humabon, the chief of Cebu, but was killed later by Chief Lapulapu of nearby Mactan Island. On April 27, 1565, Miguel López de Legazpi and the friar Andrés de Urdaneta arrived on Cebu and founded the first Spanish settlement and Catholic mission in the Philippine archipelago. For six years, until Legazpi's removal to Manila, Cebu was the Spanish colonial capital. It remained the primary Spanish bastion in the southern part of the Philippines.
Thus Cebu's rich history provides for excellent tours that help tourists, induding locals,
understand the Filipino cultural heritage and religion.
TOUR DURATION : 8-10 hours
What to expect :
Get to know more about how the Filipinos were converted from paganism to christianity 500 years ago and  how the devotion to the Sto. Nino (Holy Child Jesus) came about as evidenced during the yearly celebration of the  Sinulog Festival.
Visit and explore the famous Magellan's Cross, Basilica del Sto. Niño, Cebu Heritage Monument, Ancestral House (Yap-Sandiego), Fuerte de San Pedro, Taoist Temple, , Temple of Leah, Tops Lookout, Sirao Flower Garden, and La Vie in the sky.
Souvenir shopping as time permits.
Exclusive use of air-conditioned transportation with fuel and fully vaccinated driver
Pick up and drop of  from and to a hotel in Cebu City / Mactan
Dept of Tourism (DOT) accredited guide to better appreciate the rich history of the Phiippines and Cebu City thru in-depth story telling.
Entrance and parking fees
Free Two(2) chilled 500ml water per pax
Meals during tour.
All other items not mentioned in "INCLUSIONS"
Note: Pickup time may be flexible.
8:00AM
Pick-up at hotel/airport
8:30AM

Start of tour – Cebu City tour destinations

Sto Nino Church / Magellan's Cross
Fort San Pedro
San Diego-yap Ancestral House
Heritage Monument
Mactan Shrine
Lunch at local restaurant

1:00PM

Cebu City Highland tours

Taoist Temple
Temple of Leah
Sirao Flower garden
Tops
La Vie in the Sky

5:00PM

End of tour

6:00PM

Drop off at hotel /airport
See where the original Magellan's Cross is kept. It is one among the three gifts received by Rajah Humabon's wife from Magellan during her conversion to Christianity.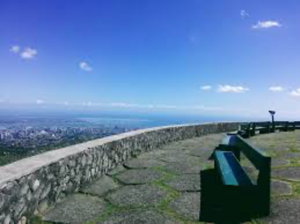 TRANSPORTATION & OTHER TOUR RESERVATIONS : Should you wish to cancel your booking for whatever reason, an email request shall be sent to our email address at least 48 hours prior arrival date at pureblissadventuretraveltours@gmail.com. Full refund less minimal agency fees representing administrative work done shall be deducted from refundable amount.